CDN Re-opening Letter
Dear members and friends,
It has been encouraging to hear the provincial health authorities talk about the gradual re-opening of places of worship. We are really looking forward to worshipping together again, but we want to proceed cautiously, respecting the guidelines to keep each one of you safe. For complete details, click here
---
He is Risen! – Easter Sunday updates from CDN
Brothers and sisters,
The dark long wait is over, it is Easter Sunday and He is risen … He is risen indeed!
In a little more than an hour, at 11am, our Easter Sunday presentation will be available on the Cote des Neiges Facebook page. Join us as we affirm our faith together, pray together and look to the Lord's comfort in the words of Psalm 30. "Sorrow may tarry for the night, but joy comes in the morning." (Please note that you don't have to watch at 11am …it is recorded, not live, and it will be available to watch after that,… Read more
COVID-19
Dear members and friends of Côte des Neiges Presbyterian Church,
Like many of you, we have watched closely the latest developments over these last 48 hours and have in particular heard the requests to limit our group activities and points of contact. Taking these measures to limit the spread of the virus will be particularly important until the end of March. Read More
Holy Week
Palm Sunday today begins Holy Week, seven strange days of mixed emotions. On this day the crowds hailed Jesus with their "hosannas," just warming their voices to cry out for His crucifixion less than a week later…Read more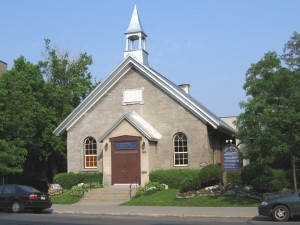 If you are looking for a church that is solidly based on the Bible, proclaims Jesus Christ as Saviour and Lord, and has a warm, loving, multi-ethnic fellowship, Cote des Neiges Presbyterian Church may be able to meet your needs.We hope you enjoy browsing our site, and would be happy to see you at one of our services.
We are an Evangelical, Reformed congregation of the Presbyterian Church in Canada, located in the Cote des Neiges area of Montreal, serving the entire island and beyond. Our concern is to worship God and bear witness to Jesus Christ in the inner city. Our people come from about 25 different ethnic groups and speak many languages (English, French, Tagalog, Twi, Arabic, German, Dutch, Tamil, etc). Members also come from a variety of denominational backgrounds.
Our services are in English, although the morning service is regularly translated simultaneously into French.
The services aim at worshiping the Lord with simplicity, reverence and dignity, combining traditional and contemporary styles of praise and prayer. The sermons seek to expound the Word of God and show how it applies to our lives daily.
We adhere to the
Westminster Confession of Faith,
an outstanding statement of Reformed Faith.
Sunday Worship Services (11:00 a.m & 7:00 p.m)