Sunday worship
Services are held in the morning (beginning at 11:00 AM and evening (beginning at 7:00 PM). Services are in English and the morning sermon is translated simultaneously into French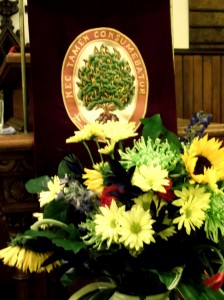 Our time together each Sunday morning is a celebration of the goodness of God, and an invitation to let His creative and healing work continue in each of our lives. The choir leads us in worshipful choruses and in the great hymns of the faith. The children's story provides a thoughtful introduction to our time together in God's Word, and the pastoral prayer often gives us opportunity to apply some of the things we have learned about our care for one another and for the world.
We look forward to our celebration of Christ's life and work in the Communion celebration on the first Sunday of each month, and throughout the month to reports from some of the ministries and organizations with whom we partner to make His love real and present in the wider community.
Our more informal Sunday evening services include an opportunity to sing favourite hymns and choruses, and to spend time together in prayer. We conclude with a more in depth study that typically works its way through a book of the Bible.
The first Sunday evening of each month includes a more informal celebration of Communion.
Sunday School
Sunday School is held during Sunday morning worship and suspended during the summer.
Sunday school and a nursery staffed by volunteers and parents are offered during the morning service.

Bible Study and Prayer
Bible study and prayer meetings are held on Wednesdays at 7:30 PM
These meetings provide a chance to reconnect in the middle of the week over a cup of coffee and a pastry. We pray for one another, for our missionaries and for some of the hotspots of the world. Then we look to God's Word together, sharing questions and background details about the text. Our survey of the New Testament has taken us through a book each week, learning how God speaks to us through the different circumstances in which each one was written.
Choir practice
Choir practice is held as announced by the Choir Director.
The church holds special services on Good Friday, Christmas Eve and New Year's Eve as well as on the church's anniversary week-end at the end of May.
Other ministries include Women's Association, Youth Group, Men's Breakfast, Seniors' Lunch, Small Bible Study Groups, Congregational Retreat, Vacation Bible Camp … as announced
For specific information and current events, please refer to: CALENDAR, BULLETIN, RECENT POSTS, UPCOMING EVENTS,  or CONTACT