Mission-Vision statement of our choir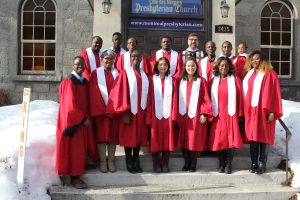 Our aim is to exalt God by offering our voices and musical talents as a sacrifice of praise to tell of His salvation, grace, goodness and love.
Our goal is to prepare the heart of the congregation for the worship of the living God, and to touch the hearts of those seeking Him.
The fulfilment of our mission is highly dependent upon a sincere and earnest commitment from each choir member to our living God, His church and congregation, and to the standards of the choir, under the guidance of the choir director.
Purpose of our choir
Worship

And all the congregation worshipped, and the singers sang, and the trumpets sounded: and all this continued until the burnt offering was finished (2 Chronicles 29:28)

Giving Thanks

Sing unto the Lord with thanksgiving; sing praises upon the harp unto the Lord (Psalm 147:7)

Praise and rejoicing

Make a joyful noise unto the Lord, all the earth: make a loud noise, and rejoice, and sing praise. Sing unto the lord with the harp; with a harp, and the voice of a psalm (Psalm 98:4-5)

Consecration

Search me, O God, and know my heart: try me, and know my thoughts (Psalm 139:23)

Edification

Let the word of Christ dwell in you richly in all wisdom, teaching and admonishing on another in psalms and hymns and spiritual songs, singing with grace in your heart to the Lord (Colossians 3:16)

Evangelism

And he hath put a new song into my mouth, even praise unto our God: many shall see it, and fear, and shall trust in the Lord (Psalm 40:3 )
Choir throughout the time
Membership requirements
Love for God, desire to praise Him through singing
Love for music and ability to sing or prove an ability to learn: newcomers may be asked for a little audition to evaluate their skills or their ability to improve
Commitment to rehearsals (Friday evenings, Sunday mornings and at home)
Discipline
Allowing yourself to be corrected repeatedly and be willing to sing alone when asked to: this allows the choir director to know where you are having difficulty and correct it accordingly
Have a positive attitude!
Have a great sense of expectation / very high standard: Desire to give your all to this ministry!
Punctuality: Beginning the practice on time means that everyone should arrive 5 minutes before the announced time, so that the actual practice starts on time.
Mon Sauveur m'aime – Oh my redeemer

In this day of Good Friday, we pray and hope that you will be blessed by the words of this beautiful hymn "Oh my redeemer", sung by our choir at their rehearsal, reminding us of this great demonstration of love that our Lord Jesus displayed on the cross for us.–(FRENCH)1- Mon Sauveur m'aime,Quel ferme appui pour ma foi!L'amour suprêmeDescend vers moiDieu vint sur la terreVivre en homme de douleur;Voyant ma misère,Il m'ouvre son coeur.Refrain:Jésus, Jésus,Qui peut sonder son amour?Jésus, Jésus,Je t'aime en retour.2- Mon Sauveur m'aime,Malgré mon indignité,Toujours le même,Plein de pitié.Il voit ma souffrance,Il enlève mon souci,Son amour immenseEst mon sûr abri.[Refrain]3- Mon Sauveur m'aime,Comme un joyau précieuxDu diadèmeQu'il porte aux cieux.Sa vie éternelle,Il la partage avec moi,Sa gloire immortelle,Il l'offre à ma foi.[Refrain]Text: Norton– (ENGLISH)1- O my Redeemer, What a friend Thou art to me!Oh, what a Refuge I have found in Thee!When the way was dreary, And my heart was sore oppressed,'Twas Thy voice that lulled me To a calm sweet rest.Refrain:Nearer, draw nearer, till my soul is lost in Thee;Nearer, draw nearer, blessèd Lord, to me.2- When in their beautyStars unveil their silver light,Then, O my Savior, Give me songs at night.Songs of yonder mansions, Where the dear ones, gone before,Sing Thy praise for ever, On that peaceful shore.[Refrain]3- Jesus, my Savior, When the last deep shadows fall;When in the silence I shall hear Thy call.In Thine arms reposing, Let me breathe my life away,And awake triumphant, in eternal day.[Refrain]

Posted by Cote des Neiges Presbyterian Church on Sunday, April 5, 2020